Guide to Choosing Socks
Ever wonder what the best type of socks are for your outdoor activity, sports match, or health condition? With so many socks to choose from, it can be difficult to determine what your best options are–after all, it wasn't too long ago that the only socks you could find were plain old cotton tube and dress socks.
Physical activities and medical foot conditions can be tough on your feet, so choosing the right type of socks will not only enhance comfort, but also minimize the likelihood of post-activity pain. Socks that are designed for certain activities or conditions are often referred to as "technical socks". Different types of technical socks are specially designed with materials and features intended to tackle some of the foot problems associated with their intended use. In order to understand which type of socks you need, we first have to look at what some of these features and materials do.
Common sock features and terms:
Cushioning (or Padding): Typically refers to loops of yarn referred to as "terry" which are found on the inside of socks. Terry provides cushioning for the foot and is meant to reduce the impact of hard surfaces or rough terrain on the sole of the foot.
Reinforcement: The term "reinforcement" is most commonly used to describe the integration of long-wearing yarns in areas of the sock that wear down easily (such as the heel and toe areas). Reinforcement is typically built into sports and work socks to prevent premature wear.
Arch Support: Arch support in socks commonly refers to a section of the sock that incorporates elastic to provide a secure fit around the arch. Arch support or arch bands help with fit and minor arch pain.
Seamless Toe: "Seamless toe" refers to a toe closure (the seam found right above the toes) that is completely smooth. Seamless toe closures are useful in athletic and medical socks where the possibility of chafing may be a nuisance or pose health risk.
Relaxed Fit: A loose fitting sock that's designed to allow unrestricted circulation to the feet. This is the most important feature found in diabetic socks.
Compression: Compression refers to tight fitting socks believed to help with muscle recovery in athletes or alleviate discomfort in sufferers of varicose veins.
Cuff Length: Cuff length refers to the height of the sock that extends above the foot. Typical sock lengths from lowest to highest are no-show, ankle, quarter, crew, mid-calf, knee, and thigh. Cuffs lengths extending above the top of your shoes will provide some protection against abrasion to the Achilles Tendon.
Size: Size refers to the length of the sock from heel to toe. Proper sizing adds to the overall comfort of the sock by reducing the likelihood of bunching and sliding.
Common sock materials:
Natural Fibers (generally used for their natural feel)
Cotton – Used in applications where a soft, natural feel is important. Its high moisture absorption makes cotton socks less suitable for activities where excessive moisture can lead to blisters.
Rayon (aka Viscose) – This semi-synthetic fibre made from wood is used for its silky feel and appearance. Rayon's properties make it suitable for fashion-oriented socks rather than sports legwear.
Synthetic Fibers (generally used because they dry fast and are durable)
Acrylic – Commonly used as an economical synthetic substitute for wool. Acrylic has good heat retention properties, but unlike wool, it does not absorb high amounts of moisture – making it less desirable than wool in high-moisture applications.
Nylon (aka Polyamide) – A synthetic fibre commonly used for its ability to improve the stretch and fit of socks. Nylon fibres are strong, soft to the touch, and light weight.
Polyester – A synthetic fibre commonly used for its high strength and hydrophobic properties. Polyester is used in socks for its ability to wick moisture away from the skin.
Polypropylene (aka Olefin) – An extremely light weight synthetic fibre which does not absorb any water. Combined with its excellent strength properties, polypropylene is used in socks geared towards performance activities.
Spandex (aka Elastane or Lycra) – A synthetic fibre known for its exceptional stretch and shape retention. An essential part of almost all socks, Spandex is commonly used in the cuff and arch to ensure a long-lasting secure fit.
Animal Fibers (generally used for their excellent moisture management and heat retention properties)
Wools – Animal fibres such as wool, angora, cashmere, and mohair thermally regulate your feet temperature by locking away high amounts of moisture and retaining heat. Furthermore, natural chemicals found in some types of wool make it naturally odor resistant.
Determining what you need
Now that you know about some of the features and materials used in socks, it's much easier to choose the correct type for your intended use. The following chart outlines some of the key features to look for in socks geared towards certain activities.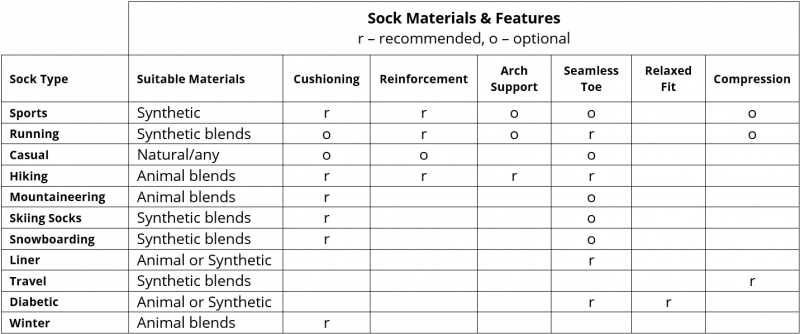 Using the information provided in this article, if you can answer "yes" to all of the following questions, you have selected the right type of socks:
Question 1: Did I select the correct sock material for my intended use?
The goal for material selection is to pick a blend that balances between comfort and durability.
Question 2: Does my sock have the correct set of features for my intended use?
Selecting the correct set of features will add to the overall comfort and functionality of the sock.
Question 3: Is the sock thickness suitable for my thermal requirements?
In order to achieve thermal comfort, it is important to choose the correct sock thickness. Sock thickness is determined by the outdoor temperature and the intensity of your activity. Sedentary activities in cold temperatures require thick socks while intense activities in the summer require thin socks.
Question 4: Do the socks fit properly on my feet and inside my shoes?
Proper fit, along with the moisture-managing abilities of the sock material, will help prevent blisters and improve comfort inside the shoe.
Selecting the right sock doesn't have to be an exact science. As long as the socks have the appropriate material and features for your needs, you're well on your way to increasing your overall comfort!
About the author
EVERSOX is a worldwide supplier of custom branded socks for businesses, retailers, and promotional products distributors — with over 10,000 designs manufactured & 100 major brands served since 2010.
You can share this story by using your social accounts: